Impact on Global Systems
The world's mobility needs are changing faster than ever before. The onset of the Coronavirus pandemic and its spread across the globe has led to unprecedented lockdowns of over 3 billion people. Almost a third of the world's population is now living in some form of lockdown due to the Coronavirus. Borders have been shut, air travel has dropped by 90%, with many airlines completely grounded and airport closures in certain areas. All of this to restrict personal mobility in an effort to flatten the curve and save lives.
As a result vehicular traffic has almost completely disappeared from some of the most congested cities in the world. Bengaluru, with a population of 8.5 million, located in southern India was ranked as the world's most congested city in 2019 by TomTom. The level of congestion in the City has dropped by over 90% due to the Coronavirus lockdowns implemented across the country.
The impact of the restrictions in the movement of persons and goods, as well as the drop in industrial production and trade can be seen from outer space. The image below shows the difference in air pollution before and during the Coronavirus lockdowns. Significant changes can be seen in Beijing and the surrounding regions.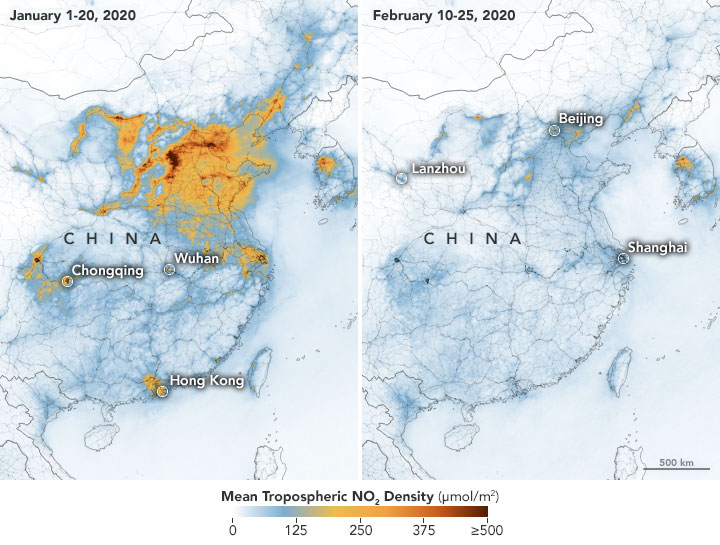 Down on terra firma, landmarks which are usually choked in smog are now clearly visible. Sightings of the Himalayas have been recorded from Punjab, India for the first time in over 30 years (approximately 200 kilometres away). It is clear that the Coronavirus is having a major impact on our global systems, not to mention the tragic loss of life and devastation it is wrecking across communities.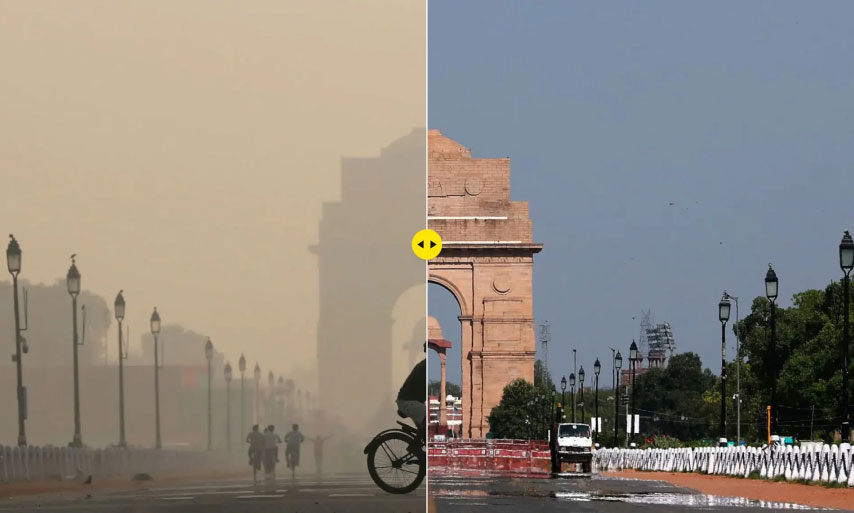 Coming Out of Lockdown
The pandemic is far from over, with the World Health Organisation (WHO) warning that even if a vaccine against coronavirus were quickly developed, manufacturing and distribution could prove extraordinarily difficult. There is no approved treatment for or vaccine against coronavirus, leaving governments grappling with the challenges of limiting loss of human life and mitigating against the economic impacts. Many lives have already been lost, and healthcare systems across the world have been put under immense pressure.
As the lockdown measures continue, the livelihoods of households across the world are being affected. Economic experts are warning of a growing unemployment crisis, with over 3.2 million people filing for COVID-19 grant relief in South Africa, and the state having already paid out R16.5-billion as part of the Temporary Employee/Employer Relief Scheme (TERS). These measures are difficult to sustain, even in developed countries, which is putting pressure on governments to start loosening the hard lockdown restrictions.
Partial lockdowns are being discussed at both national and regional level, and the potential phasing in of industries, to get the economy back on its feet and to mitigate against massive job losses. Governments are investigating ways to be as best prepared as possible for new surges in Coronavirus cases, and are instituting screening measures in high risk areas, whilst quarantining those who are possibly infected. Public and private entities have been called upon to provide manufacturing support for ventilators and other critical medical supplies.
Future Travel Trends
As the hard lockdown restrictions are gradually reduced in an effort to revive the economy, many people are asking, "What will life post-lockdown look like?" What measures will government put in place in order to limit transmission and flatten the infection curve? Authorities have been looking to countries which have already released lockdowns for guidance and lessons learnt.
China has developed a QR Code pass system which indicates an individual's coronavirus status. The passes are then used as a means to track and limit the movement of those who are or have been potentially infected. This allows for the government to more efficiently conduct contact tracing, and quarantining those infected to contain new outbreaks.
Other countries, such as Singapore and the United States have promoted walking and cycling as a safer mode of travel as opposed to the usually crowded mass transit systems. New scientific research is running in parallel with these programmes in an effort to better understand the transmission of the virus, and the recommended safe following distances when cycling and walking. Walking and cycling, also referred to as Non-Motorised Transport (NMT), as a preferred means of travel may become a far bigger part of our lives.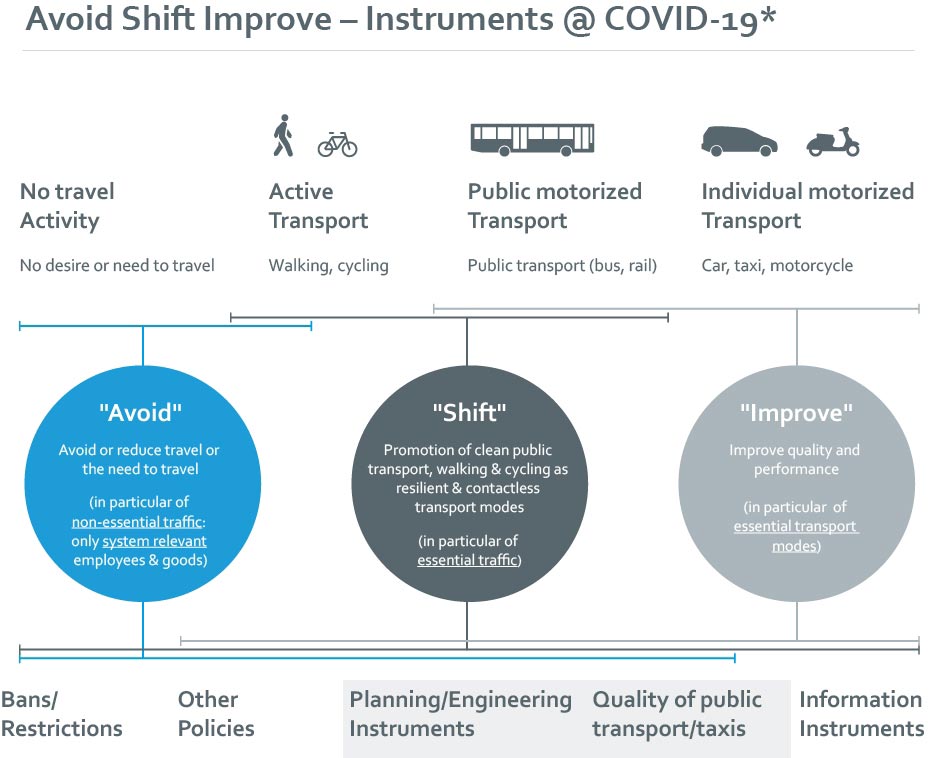 Before the coronavirus pandemic, ITDP reports estimated that 40% of persons in developed countries and 50% in developing countries already use waking and cycling as their primary mode of transport. The mode share of walking and cycling is likely to increase as people avoid high density mass transit systems in an effort to social distance.
As transportation professionals, we need to ask ourselves, what we are doing to provide safe and efficient walking and cycling networks. With more people making use of NMT, how do we ensure that there are safe facilities and well-connected transport networks? A large number of vulnerable user groups already make use of NMT facilities on a daily basis, as shown in the 2018 household survey conducted by StatsSA, where the study found that at least 60% of scholars in South Africa walk to school.
Walking & Cycling Planning
In an effort to provide a safer and better-connected NMT (walking and cycling) network, the Western Cape Government has commissioned the PSTP programme. The programme focuses on promoting sustainable and safe transport interventions across the province. Current focus areas include bicycle distribution programmes to create employment opportunities and social upliftment in areas which experienced socio-economic challenges.
The programme is being run in parallel with the development of regional NMT Master Plans. The Plans are being created in partnership with local authorities, stakeholders and vulnerable user groups to generate a strategy for regional walking and cycling networks. The Plan serves as the roadmap for the identification and implementation of high priority walking and cycling infrastructure. With the purpose of selecting projects which uplift communities through the provision of safe and connected walking and cycling networks.
HHO Consulting Engineers, in partnership with Pegasys Consulting had the privilege of working with the Western Cape Government and the Overstrand Municipality in developing such a plan. The non-motorised transport master plan for Overstrand was developed over several months with the authorities and in partnership with local stakeholders. A pragmatic approach was followed to develop a comprehensive, and integrated NMT plan for the area, which can be implemented incrementally as funding becomes available: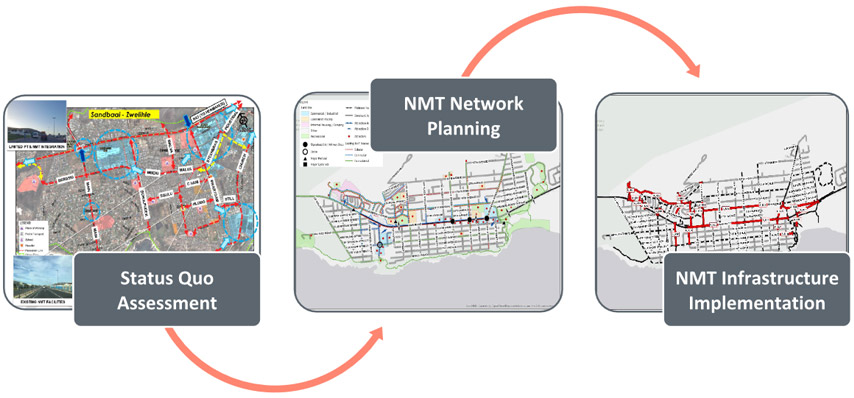 The NMT Master Plan was developed through invaluable contributions from the Overstrand Municipality and the Western Cape Government PSTP unit. Communication between the parties involved and client liaison was facilitated by Pegasys Consulting, to ensure that the plan was well thought out and considered by relevant authorities and key stakeholder groups. The plan will serve as the guideline for NMT facility implementation in Overstrand, with the purpose of providing a safe and well connected NMT network.
Walking & Cycling Infrastructure
Once an NMT Master Plan has been formally adopted, the project design and construction phase can commence. The implementation phase of the project is particularly rewarding as tangible benefits to the community are provided, and human quality of life is improved. HHO Consulting Engineers has been involved in a number of flagship NMT planning and implementation projects over its 90 years of operation.
The integration of walking and cycling facilitates into the MyCiTi Integrated Rapid Transit Corridor between, Cape Town CBD and Table View is just one such project. As lead consultant, HHO in partnership with the City of Cape Town, provided NMT planning and design input on more than 30 kilometres of walking and cycling infrastructure. Key design considerations included safety, capacity and universal accessibility.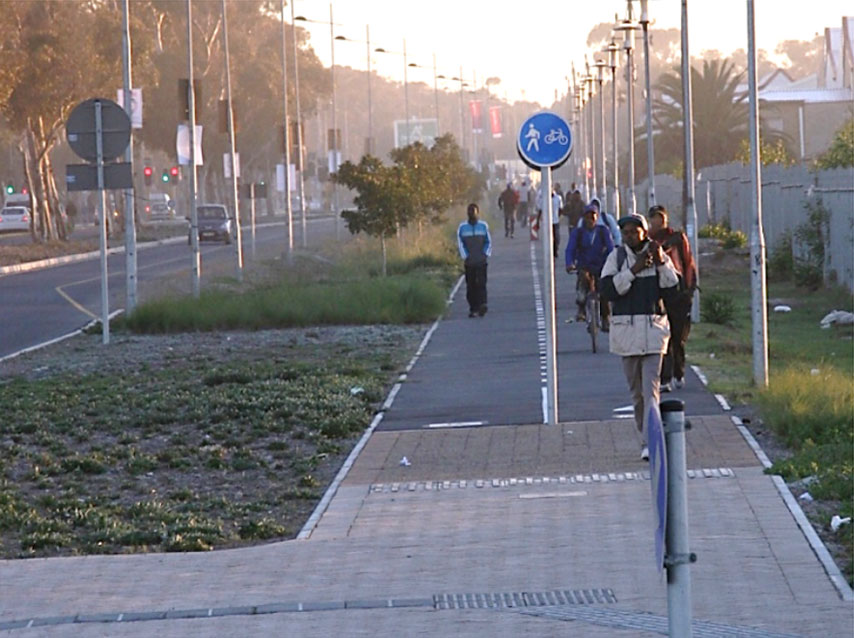 As a result the NMT network serves communities in a catchment area of more than 200,000 people. We trust that the work done has had a positive impact on the communities served, and we look forward to making a contribution in other areas to provide a safer, better connected, and more sustainable transport network in a post pandemic world. Let's all do our part to "Stay Home. Save South Africa. Together we can beat the Coronavirus".
Find Out More
If you are interested in finding out more about the project, the process or the people involved please feel free to make contact with us. Reach out for an obligation free meeting to discuss the potential benefits of an integrated walking and cycling master plan for your area.
NMT Master Planning
Bikeways, Walkways & Sidewalks
NMT Crossings and Signalisation
NMT Road Signs and Markings
Wayfinding Signage
Universal Access Facilities
Robert Kotze Pr Eng
Senior Transport Engineer
+27 (0)21 425 2870
e: info@hho.co.za